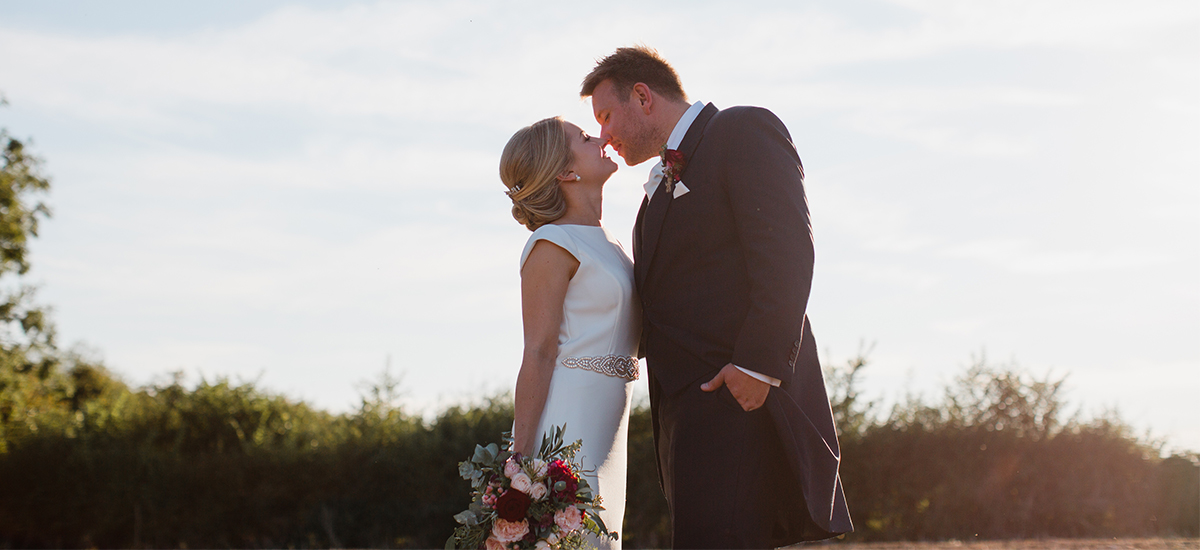 Love is in the Air
Love is in the Air
The sun shone for the August wedding of Katie and Matt, the icing on the cake for this happy day filled with romance, family, friends, delicious food and garden games!
The Perfect Venue
Looking for a venue they had never been to before, Katie and Matt came across Blackwell Grange online and immediately booked a visit. While Blackwell was under construction and they were warned to bring their wellies on site, they knew they had found the place for their special day!
"The Thatch Barn had no roof so we had to use our imagination. We were so inspired by Didi's vision, we just knew it was going to be beautiful."
Katie
Setting the Scene
Planning a relaxed celebration, the happy couple wanted to set an elegant, simple and understated style. Matt's favourite colour is orange so they initially decided on a peach colour scheme. However, this was soon changed to merlot, a shade that looked beautiful in all different lights.
Katie made all the stationery herself and beautiful flowers adorned Blackwell Grange.
"I requested David Austin roses and left the rest to my florist. She could really see my vision and we were so pleased with the end results."
Katie
Bridal Style
The beautiful bride wore a classic bridal gown from Mikaella Bridal. Katie completed the look with a full-length cathedral veil, delicate hair vine and sparkly sandals from Carvela.
"I originally wanted lace but hadn't fallen in love with anything. I tried on a dress which looked very plain but I couldn't believe how beautiful it was when I put it on! It suited my figure perfectly and went with the elegant and understated look of our wedding."
"For my 'something borrowed' and 'something blue' my mum kindly lent me my grandmother's sapphire engagement ring."
Katie
Order of the Day
Following the romantic ceremony in the Thatch Barn, guests enjoyed Pimm's and Elderflower Sparklers alongside delicious canapés on the terrace outside the Orchard Barn.
"We were so lucky to have such a beautiful day!"
Katie
When it was time for the wedding breakfast, Blackwell Grange's expert caterers served a starter of bruschetta followed by rib of beef and, to finish, dessert canapés.
"Each table received the roast beef on a carving board. One guest per table was chosen to carve. It was great fun and got everyone talking." – Katie
As day turned to night, the newlyweds danced their first dance to 'Sweetest Devotion' by Adele and guests took to the dance floor. The Blackwell Grange outdoor pizza oven fired up and guests could choose from three delicious pizza options.
"They all tasted amazing and kept our guests going for the rest of the evening!"
Katie
"We loved the whole day but particularly loved having all our favourite people with us."
Katie
Advice from the Bride
"Make lists and let your family know the plans so they feel at ease! Try to keep calm on the day and make sure you have breakfast – it's a long day! Book a videographer; they are expensive but worth every penny. We love reliving our day when we watch it. I promise you will not stop smiling on the day."