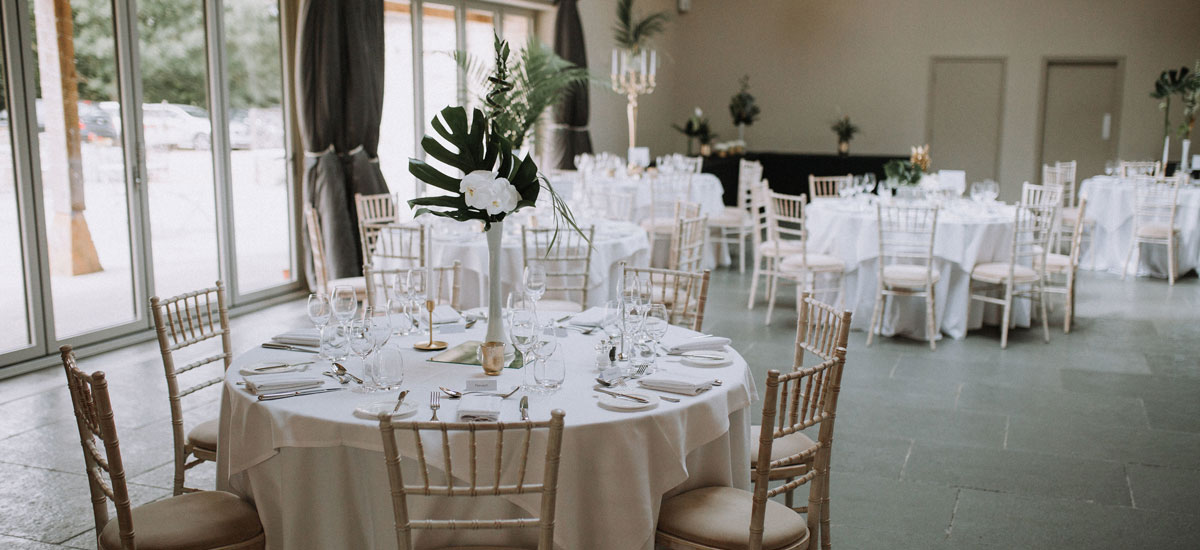 Paired-back Minimalist Wedding Ideas for Your Barn Wedding
Paired-back Minimalist Wedding Ideas for Your Barn Wedding
With an eye on forthcoming wedding trends for 2020, we're excited to welcome minimalist, paired-back style as one of our favourites. With its elegant neutral décor, clean lines, copper features, exposed brick and well-considered lighting, Blackwell Grange is the perfect setting for this trend. If you like the idea of keeping things simple yet stylish, we hope these minimalist wedding ideas will inspire you.
All About Ceremonies
The Thatch Barn is an idyllic space for a minimalist wedding ceremony, its natural beauty working in complete harmony with the surroundings. The natural colours and textures of the barn need little or no additional décor.
Adding candles to the setting is a popular choice and for good reason. Candlelight undoubtedly adds an additional air of romance. We love to see pillar candles of varying height beside the fireplaces.
Bring the outside in with an abundance of foliage and pure white flowers. The fireplace in the Thatch Barn is simply waiting for a fabulous garland to be placed above it!
Flowers also make beautiful chair decorations, a contemporary alternative to the traditional pew end. We love this sensational hydrangea tied with white ribbon.
As a slightly more contemporary alternative, introduce foliage to your chair decorations.
Deep red tones can also be added to a minimalist theme, adding warmth to the overall look in autumn and winter months. Geometric shapes embrace the contemporary style. This hexagonal flower frame around the Thatch Barn fireplace was simply breath taking.
Elegant Stationery
Simple stationery is effortlessly beautiful. It's all about crisp edges and meticulous print.
For minimalist wedding style, keep place names and table numbers fuss free. A table number on black card with elegant calligraphy can be tied to a candlestick.
Table plans and signage should be clean and classic, using a white background and elegant black or metallic font.
Geometric shapes continue the theme, from hexagonal menus to table plans.
Table Décor
Avoid over-decorating your tables in the Orchard Barn, instead paying attention to details and focusing on your cutlery and place settings. Crisp white table linen sets off elegant glassware, white candles and some delicate foliage, the perfect backdrop upon which to present your wedding breakfast. You might choose to add a little glamour with the addition of mirrored vases and metallic candle holders.
Nothing suits a minimalist wedding theme quite like an arrangement of the purest white flowers. Thee hydrangeas fit the bill perfectly, presented in a glass vase.
For a slightly more modern look, orchids are a stunning white wedding flower. Consider standing them on mirrored bases.
If you want to add a little more colour to your minimalist theme, the combination of copper and sage green is bang on trend. Introduce the green through foliage and candles and the copper through candlesticks and base plates. The end result is clean, fresh and welcoming.
Deep red adds a touch of drama to an autumn or winter theme, contrasting wonderfully with the pure white of the table linen.
And, of course, you might even lean towards a splash of black. After all there's nothing quite as striking as a monochrome colour scheme.
Creative Cakes
A semi-naked cake embraces both the minimalist style and the countryside setting. We love the addition of fresh white orchids and a pristine silver cake stand. Alternatively, opt for an elegant white stacked cake, perhaps choosing square or hexagonal tiers to embrace the modernity of minimalism.
If you have yet to visit Blackwell Grange, we would love to show you all we have to offer. Simply give our friendly team a call on 01608 698798 or contact us online.