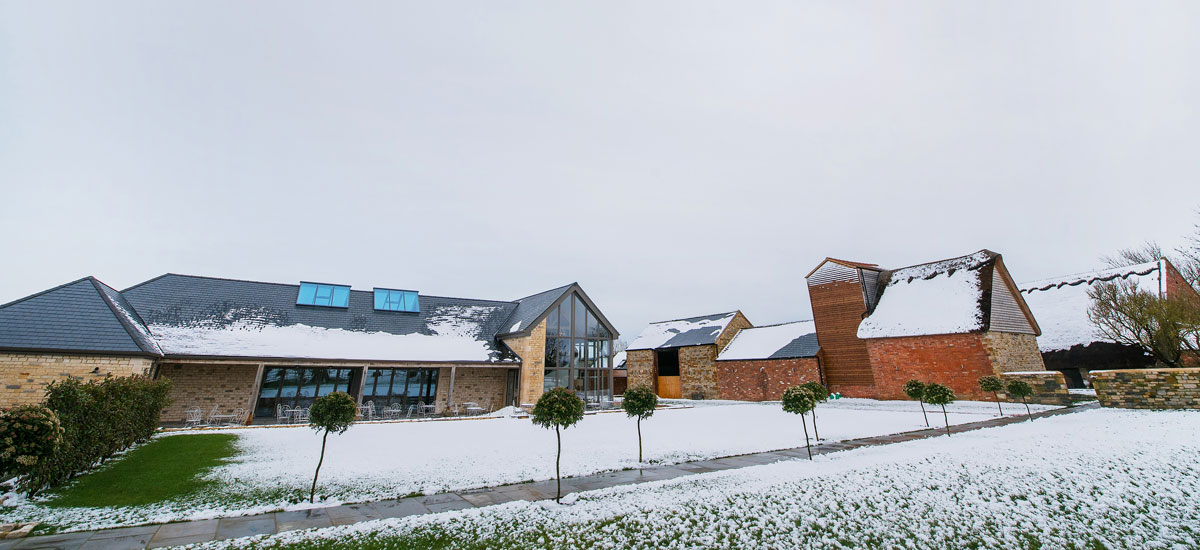 Planning your Winter Wedding at Blackwell Grange
Planning your Winter Wedding at Blackwell Grange
With winter upon us, there's nothing we love more than a romantic seasonal wedding. From cosy colour schemes to wonderful seasonal cocktails, let's take a look at the key things to consider when planning your winter wedding at Blackwell Grange.
Colour Choices
It goes without saying that, when it comes to colour, the most important thing is to choose a combination you like! Winter offers an abundance of beautiful colour schemes, from a silver and white winter wonderland to deep, cosy shades of pinks and purples and the more traditional gold, red and green.
Whatever you choose, think of how you are going to introduce the colours to your day from start to finish. Begin with stationery and carry the colours through to your bridesmaid dresses, flowers and table design. You might even be able to add a little colour to your menu, perhaps with a signature cocktail!
Design Details
Choosing a wedding venue in the Cotswolds, you're surrounded by nature. Bring a little of the outside in featuring berries, pine cones, beautiful foliage and flowers in your wedding décor. Throughout December a beautiful Christmas tree stands in the Thatch Barn and the Orchard Barn providing the ultimate Christmas decoration. Why not decorate the tree to match your own winter wedding colour scheme.
With its magnificent open fire and underfloor heating, the cosy Thatch Barn is the perfect setting for your winter ceremony. While the fire speaks for itself, be sure to highlight the majestic fireplace with some lovely winter arrangements. Choose your lighting carefully to create a romantic ambience, perhaps entering the barn with only the aisle lights illuminated and tea lights in the air vents of the barn walls.
Moving through to the Orchard Barn, stunning chandeliers will delight your guests at this time of year. Carry your floral theme through to the bar and your wedding breakfast design and be sure to incorporate candles into your arrangements.
Seasonal Menus
The talented catering team pride themselves in offering an exquisite seasonal menu on your special day. When you have booked your date, it's time to chat to them about the different options available for your winter wedding. You might like to offer a warming menu, starting with a selection of hot canapés, moving on to a hot smoked fillet of salmon, a fillet of beef and a trio of desserts.
Consider your drinks, perhaps welcoming guests with a gin bar or cocktail station. You might even decide to have a 'boozy hot chocolate station' – the perfect winter warmer!
As day turns to evening and your evening celebrations commence, delight your guests once again with wood fired pizza from our outdoor pizza oven in the Walled Herb Garden.
Thoughtful Details
Whatever time of year you choose to marry, it is often the smallest details that make all the difference.
Favours are a lovely touch and winter gives you so many choices. You might decide to give each guest a Christmas tree bauble as their place setting, or even a glitter pine cone. Edible favours for winter might include delicate gingerbread cookies, delicious chocolate truffles or individual smore gift bags. Be sure to make guests aware of their ingredients in case of any allergens.
It always seems a shame not to make the most of a blue sky on a winter's day so do consider providing shawls for your guests. If the weather is kind, it might just persuade them to step outside on to the terrace and experience the idyllic Cotswolds countryside setting.
If you have yet to visit Blackwell Grange, we would love to show you around. Simply give our friendly wedding team a call on 01608 698798 or contacts us online.
For more winter wedding inspiration, take a look at Steph and Zeb's Winter Romance.