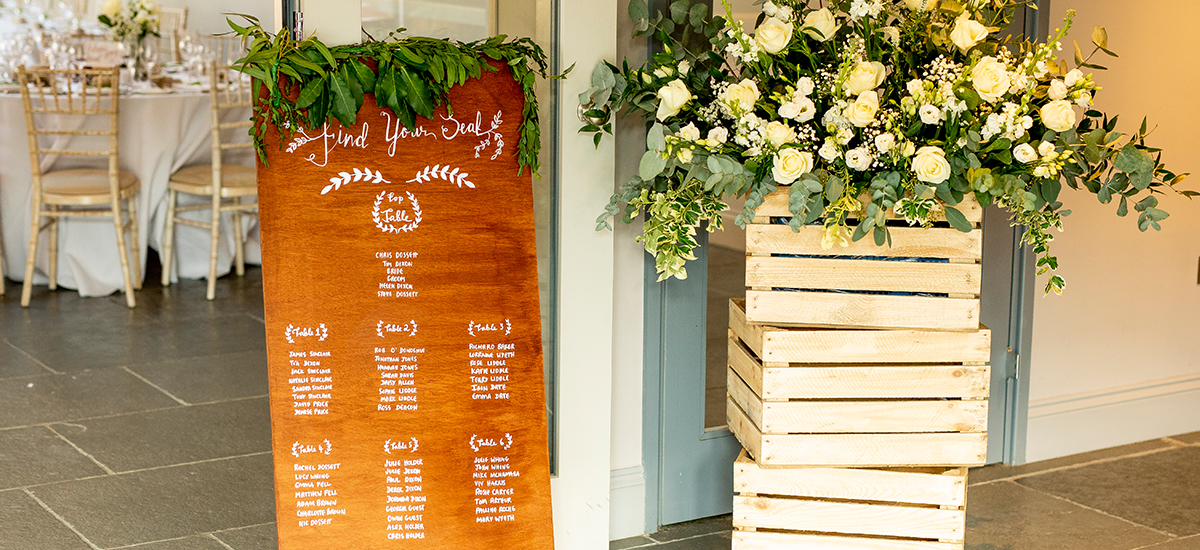 Table Plan Ideas For A Barn Wedding
Table Plan Ideas For A Barn Wedding
Think of your table plan as a key wedding decoration. As well as being informative and essential, it can really embrace your wedding style and colour scheme. We hope these fabulous table plans from weddings here at Blackwell Grange will offer some inspiration.
Keep it simple with a pretty floral design to co-ordinate with your wedding flowers, adding an element of personalisation with baby photos of the happy couple.
Framed mirrors make glamorous table plans, with gold, white or black writing. We also love a fun alternative to a traditional table plan with each table name attached to a wire grid. Effortlessly elegant, it can be so delicate and unimposing. Adding some flowers around the edge of your table plan allows you to introduce your colour scheme too.
Wood makes a great backdrop for a country-style table plan, needing only elegant white card for the table names themselves.
Sometimes all you need is a frame and your imagination! We love these personalised table plan ideas.
Here, a wooden background takes on vintage style and table names are well highlighted on a black background.
Why not incorporate your floral style into your stationery, either with fresh flowers or artwork? This design features lovely illustration, with each table named after a favourite car.
If you're looking to host an elegant barn wedding a white on white table plan with satin ribbon detail is the ultimate option.
If you're keen travellers, why not name your tables after countries and present your table plan as a world map?
Let your table plan reflect your personalities and don't be afraid to be different. We love this seaside design, made with exceptional attention to detail and presented in a wooden tray.
As an alternative to a board or frame sitting on an easel, why not suspend the seating plan for each table from a copper pipe or role. This design is unusual and bang on trend, embracing the current fashion for marbling and geometric shapes.
Introduce these rich shades of wood and foliage to your country wedding. If your table plans are large enough, you can simply stand them up against a wall or window.
We hope these wedding table plan ideas have given you some inspiration for your barn wedding, however if you're looking for more take a look at our guide to wedding favours.