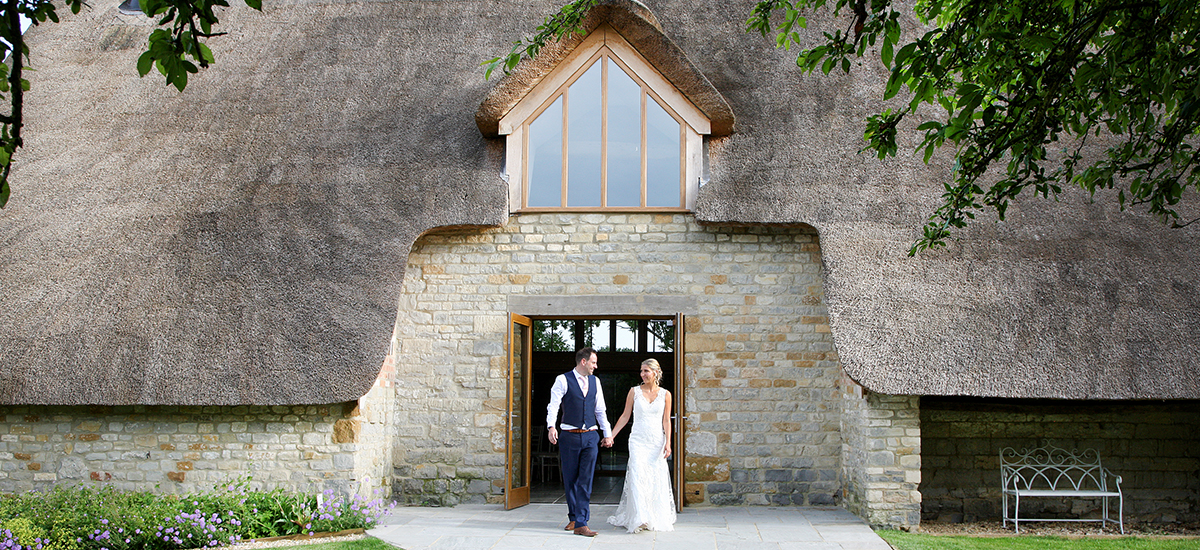 5 reasons Blackwell Grange is the perfect barn wedding venue
5 reasons Blackwell Grange is the perfect barn wedding venue
With beautiful countryside locations, exceptional spaces and exclusivity, Blackwell Grange allows you to celebrate your day, your way, offering a neutral yet charming and characterful canvas upon which to impart your wedding style.
1. Barns Brimming with Natural Beauty
Our wedding barns are set in acres of rolling countryside, boasting beauty both inside and out. With original oak beams, floor to ceiling windows and a magnificent fireplace, the Thatch Barn is so aesthetically pleasing, there's no need for further decoration. Simply bring the outside in to your wedding ceremony with some pretty flowers and complement the ambience with enchanting fairy lit lanterns.
Meanwhile, the contemporary Orchard Barn has been designed entirely with weddings in mind, offering an abundance of space and light for your wedding breakfast and the most spectacular views over the lawns and beyond.
2. It's All Yours
At Blackwell Grange, it's all about you as the barns are exclusively yours on your big day. You won't bump in to another bride or share the venue with anyone other than your guests. Celebrate your entire day from getting ready with your bridesmaids in the Potting Shed all the way through to your wedding night in the Granary Honeymoon Suite.
3. A Wonderful Mix of Old and New
At Blackwell Grange, we combine romance and tradition with style, and elegance. The 16th century Thatch Barn provides a wonderfully romantic backdrop for your ceremony, while the Orchard Barn boasts contemporary style and chic interior design for your wedding breakfast. There's a natural flow between the two as your day gently moves between ceremony and celebration.
4. A Photographers Dream
Set within acres of breathtaking Cotswolds countryside, as well as the beautiful barns themselves, Blackwell Grange boasts an abundance of fabulous photo opportunities. The Chestnut Dell and the Moon Gate are just some of the dreamy outdoor backdrops for romantic shots of the two of you. Equally, your photographer will enjoy capturing moments on the red brick Herringbone path, the lawns and inside the barns themselves with their exquisite interior design details.
5. Styling Opportunities are Endless
With such a heady mix of the old and the new, barns lend themselves to numerous styles and colour schemes. You might choose to let the natural beauty of the barns speak for themselves, opting for a more rustic style. Alternatively, make your mark by adding a theme or colour scheme to the day. A barn wedding venue gives you the opportunity to create your day your way, embracing natural beauty, creativity and versatility.
If you have yet to visit Blackwell Grange, we would love to show you around. For any wedding questions or to arrange a show around, call our friendly wedding team on 01608 698798.