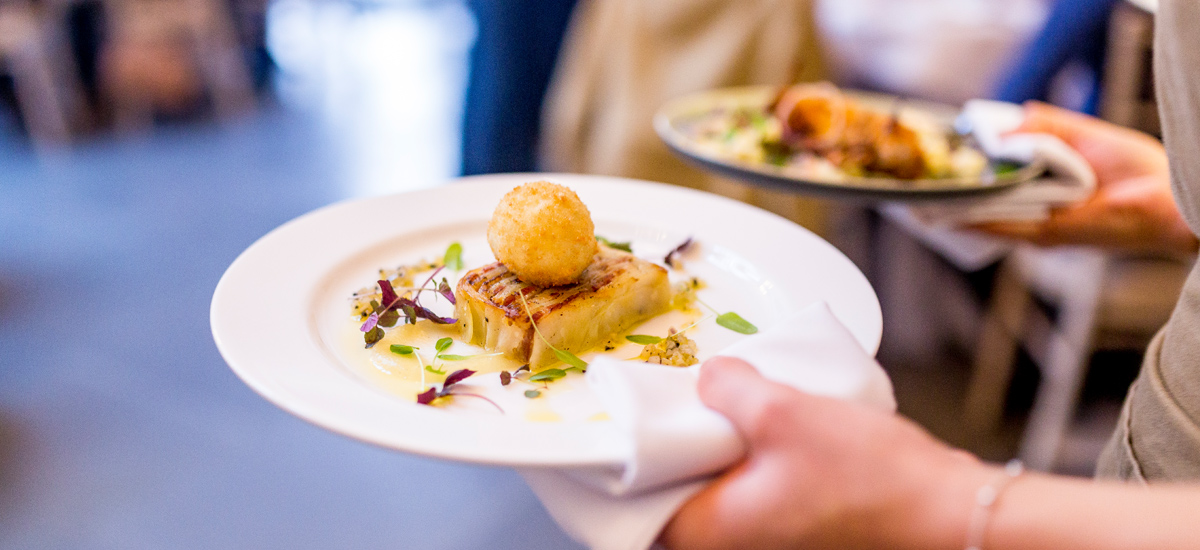 A Guide to your Wedding Food at Blackwell Grange
A Guide to your Wedding Food at Blackwell Grange
Exceptional dining is at the heart of every Blackwell Grange wedding, expertly created by the talented catering team. If you're in the midst of planning your wedding food, let's take a look at every delicious possibility, from that first tantalising canapé!
Drinks and Cocktails
Well-chosen drinks always accompany great food at Blackwell Grange, from the moment you greet your guests following your ceremony in the Thatch Barn. Consider your season, perhaps opting for Pimms, Prosecco or a Kir Royale on a summer afternoon or a warm spiced cider or mulled wine in cooler months. Delight guests with non-alcoholic mocktails and entertain with gin or cocktail bars.
When you move in to dine, you'll find a broad selection of wines included in our different wedding packages. Or, you might like to choose from our alternative wine selection, carefully selected from vineyards around the world.
And, as day turns to night, you might decide to offer guest ales, mini bottles of Prosecco or even a hot chocolate station!
Canapés
A popular element of every wedding day, canapés are proof that the best things really do come in small packages! Blackwell Grange's catering team will use the finest seasonal produce to create a canapé menu that perfectly suits your day, from smoked salmon blinis with dill cream in the summer to warm prawn and ginger wontons in the autumn.
Your Wedding Breakfast
Celebrate your marriage with your friends and family as you dine in the contemporary Orchard Barn. Our expert caterers will create a menu to suit the style and season of your special day, whether you have your heart set on an exquisite fine dining experience or a less formal barbecue. Of course, we also pride ourselves in offering a great menu for your younger guests and catering for any dietary requirements.
Evening Dining
With your evening party in full swing, your menu can offer an element of theatre. Elaborate food stations and firepit barbecues are set to delight, with delicious pizza served from our wood-fired pizza oven in the Walled Herb Garden.
If you have yet to visit Blackwell Grange, we would love to show you all we have to offer. Simply give our friendly team a call on 01608 698798 or contact us online.