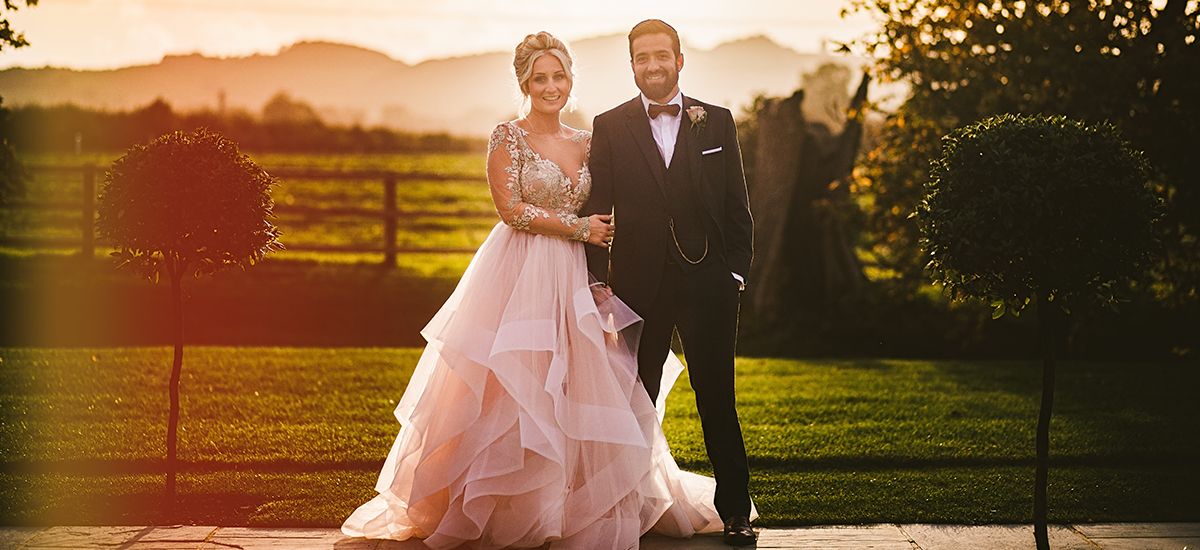 When A Fairy Tale Comes True
When A Fairy Tale Comes True
Danielle and Lorance wanted their Blackwell Grange wedding to be filled with fun and romance. Surrounded by their friends and family, they certainly created the dream wedding day.
The Perfect Venue
Planning their September wedding, Danielle and Lorance were looking for a unique venue with style and character. Having looked around numerous options, they set their hearts on Blackwell Grange.
"We loved the juxtaposition of the traditional ceremony room and the contemporary Orchard Barn."
Danielle
Setting the Scene
A fairy tale theme was chosen, introducing an abundance of beautiful flowers and fairy lights to Blackwell Grange. Subtle pinks and greys with hints of deep burgundy made for a perfect colour scheme at this late-summer celebration.
Getting creative, Danielle made all the stationery herself alongside gifts for her six bridesmaids and her groom. Other personalised elements really added to the décor, including copper 'D & L' letters.
All About Flowers
Flowers were placed across the fireplace in the Thatch Barn and also featured as pew ends. When it came to the wedding reception, glass domes were filled with fairy lights and placed on top of moss-covered books to make pretty table centrepieces.
Bridal Style
After trying on a number of gowns, Danielle was struggling to find 'the one' but knew she particularly loved dresses by designer Hayley Paige. Finding a local stockist, she chose her dream gown, 'Lorelei' a stunning rosewater tulle design with embroidered bodice and illusion neckline.
"I love everything about the dress. It's stunning in every way and fitted in to our fairy tale theme. Loz said it couldn't have been more perfect." – Danielle.
The beautiful bride completed the look with a rose gold hair vine and powder blue Charlotte Mills shoes.
"I also had a secret pocket sewn in to my dress in to which I placed a pendant that is a family heirloom."
Danielle
Lorance and his ushers wore navy three-piece suits with burgundy ties while Danielle's six bridesmaids wore multi-way dresses in dove grey from Marks and Spencer.
"I was very laid back when it came to how they wore their dresses. It was important to me that they felt comfortable." – Danielle
Order of the Day
Following their ceremony and welcome drinks, the wedding breakfast was served in the Orchard Barn. Starting with a terrine of braised ham hock, they moved on to a main course of lamb and a trio of desserts including treacle tart, chocolate brownie and lemon posset.
"The treacle tart blew our minds – I need that recipe!"
Danielle
Amazing acoustic music was played throughout the ceremony and wedding breakfast.
As day turned to evening, a band helped to fill the dance floor and it was time to party. Roast pork baps were served and the newlyweds and their guests danced the night away.
Let Them Eat Cake
The incredible cake looked like a birch tree with carved details and flowers.
"At one point, a friend had to stop one of my guests because she was poking the cake. It looked so real, she thought it was wood!" – Danielle
Favourite Moments
"I was so excited about seeing Loz that morning, I didn't feel nervous at all. Walking down the aisle and seeing my husbands face was priceless." – Danielle
"The events team were a dream and the owners were amazing. They have so much passion for Blackwell Grange and were so accommodating."
Danielle
Advice from the Bride
"Don't sweat the small stuff! All you will care about on the day is marrying your guy!" – Danielle