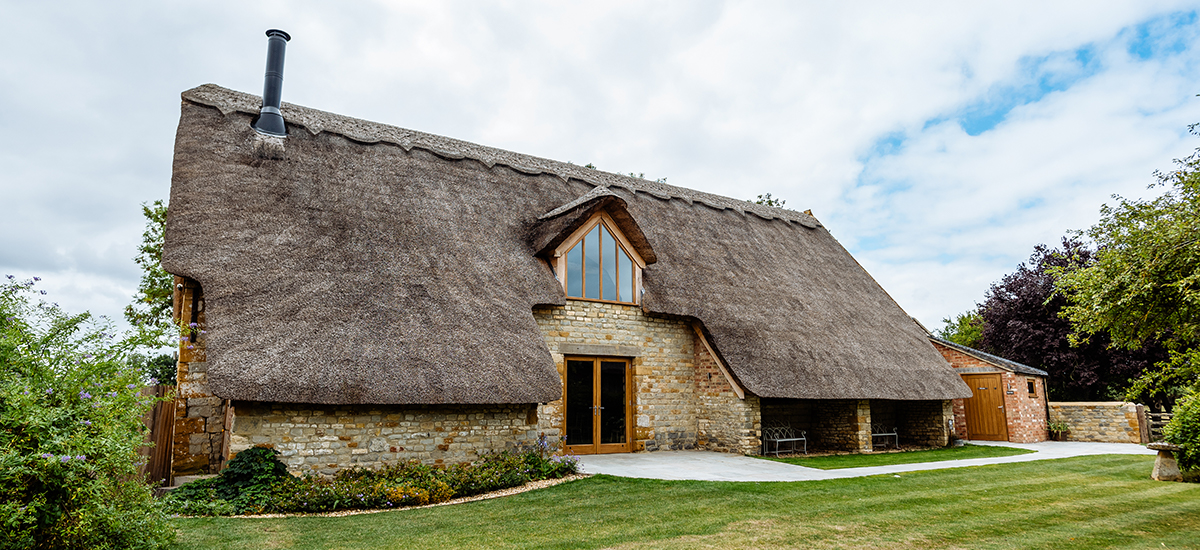 Designing Your Wedding Day at the Beautiful Blackwell Grange
Designing Your Wedding Day at the Beautiful Blackwell Grange
Welcome to one of the most beautiful wedding venues in the Cotswold countryside.
Where an original thatched barn, contemporary dining space and idyllic honeymoon cottage are just a few of the features that make Blackwell Grange one of the most exciting wedding venues in Warwickshire.
Amidst the beautiful surroundings, we hope you and your guests will remember exquisite dining experiences and an intuitive service. Our team is here to make sure that every moment of your day goes to plan, from the second you arrive in our stunning bridal preparation room, The Potting Shed, all the way through to breakfast the following morning.
Tasteful, stylish spaces
What could be more romantic than saying your vows in our 16th century Thatch Barn with its original oak beams, earthy sandstone floor and magnificent fireplace? Lovingly restored in 2016, we've retained its natural beauty and enhanced the existing ambience with lighting and exceptional acoustics. Serene and elegant in every way, it's the perfect place to say 'I do'.
Step into the contemporary Orchard Barn for your drinks reception and wedding breakfast. Designed with weddings in mind, it boasts a striking copper and timber clad bar with volcanic rock top, magnificent oak beams and an abundance of natural light.
Surrounding exceptional indoor spaces, the Cotswold countryside envelopes you. Enjoy drinks on Apple Tree or Cider Lawn, stroll down to the Chestnut Dell or weave your way through to the Walled Herb Garden.
Styling your wedding day
If you're in the midst of considering your wedding styling, we've highlighted a few ways in which you could style Blackwell Grange and embrace its existing architecture.
Flowers
Flowers and foliage bring the outside in and give guests a hint of your chosen style and colours. Line the aisle with trailing ivy and attach pretty arrangements to the ends of chairs, even if just on alternate rows.
Decorate our magnificent fireplace with vases on the hearth or a floral garland across the mantel. We also love to see grand arrangements to the side of the fireplace.
Remember, whatever you choose for the Thatch Barn can be re-used in the Orchard Barn – perhaps tying floral pew ends to your top table chairs and placing garlands on the top table.
Lighting
The lighting in the Thatch Barn has been carefully designed with your wedding ceremony in mind. Floor uplighters, beam lights and stunning chandeliers are independently controlled, enabling you to create the perfect ambience. You might, for example, love the idea of entering the barn illuminated only by floor lights.
Of course, it's also lovely to add some pretty atmospheric lighting. Unfortunately, we can't allow candles in our historical thatch barn, but we find that fairy lights and LED candles are a wonderfully effective alternative. Consider lining the aisle with lanterns filled with fairy lights or stand LED candles in the fireplace.
Personalised details
Make your mark with a few thoughtful touches, from elegant signage to considerate details for your guests – think blankets, useful favours and DIY cocktail bars. It's a lovely idea to 'reserve' seats for your wedding party and immediate family, perhaps with a handwritten note or poem.
Defining your style
Are you minimalists or maximalists? Fortunately, Blackwell Grange offers opportunities for both styles to look extraordinary. Here are some ways in which you could implement minimal styling or go all out as a maximalist in our stunning barn wedding venue.
Making minimal styling work at Blackwell Grange
The Thatch Barn's natural colours and textures actually demand little or no additional décor. Simply adding candles is a popular choice and for good reason. Think pillar candles of varying height beside the fireplaces.
Opt for plenty of green foliage and pure white flowers for a pared back floral scheme. We love the idea of using a white hydrangea tied with white ribbon as pew end decor. Deep red tones work really well when added to a clean, minimalist theme in autumn and winter months.
Simple stationery is a must. For minimalist wedding style, keep place names, table numbers, table plans and signage clean and classic, using a white background and elegant black or metallic font.
Keep table decor simple in the Orchard Barn, focusing on elegant cutlery and personalised place settings. Crisp white table linen sets off elegant glassware, white candles and some delicate foliage. Nothing suits a minimalist wedding theme quite like an arrangement of the purest white flowers. Three hydrangeas presented in a glass vase make the perfect wedding table centrepiece, or for a more modern look, orchids are a stunning white wedding flower.
If you want to add a little more colour to your minimalist theme, sage green and gold is timeless. Introduce green through foliage and candles and golds through candlesticks and base plates. The result is clean, fresh and welcoming.
And of course, there's nothing quite as striking as a monochrome colour scheme. Introduce black with white for an elegant, refined, 'black tie feel' to your wedding breakfast.
Making maximalist styling work at Blackwell Grange
The Thatch Barn's natural colours and textures provide the perfect neutral backdrop for a bold colour scheme and the addition of even more texture and bold focal features. There's no need to worry about colour clashes or issues with making existing furniture and features work with your big ideas.
Add pattern, whether you include in your wedding dress or chair adornments. Inject Pantone's colour of the year, magenta, in your choice of aisle flowers and to add colour to the fireplace surround.
Think ceiling installations of varying heights and colours for added wow factor, or add drapery details to the beams for a lighter addition.
Colourful centrepieces are a must, and think unconventional colour combinations across the flowers, table runners, candles and place settings. The Orchard Barn really is your blank canvas for as many gorgeous details as you'd like.
Have fun with your table plan, opting for wire backgrounds or wood for a rustic barn feel, but with colourful flower details pulling your theme through. Think personalisation with the inclusion of a mini theme, whether that's travel, a nod to your favourite tv show or something completely unique like this fantastic seaside design. Don't be afraid to be different!
As an alternative to a board or frame sitting on an easel, why not suspend the seating plan for each table from a copper pipe? This design is unusual and on trend, and definitely fits with the 'more is more' aesthetic.
Get in touch with the team
If you have yet to visit Blackwell Grange, we would love to show you all we have to offer. Simply give our friendly team a call on 01608 698798 or contact us online.